Reporting Nursing Home Neglect in Sacramento – A Step-by-Step Guide
Sacramento elder abuse and nursing home neglect attorney Sean Laird takes you step-by-step through reporting suspected neglect or abuse to the state and local government when your parent or love one is neglected at a skilled nursing facility in Sacramento.
You get a call from the nursing home your mom/dad is in and the employee on the other end of the line says your mom/dad has been sent to the hospital.  When you get to the hospital the doctors and nurses are shocked at your mom/dad's condition.  But the person who is most shocked – is you!  You had no idea your mom/dad was suffering or had the physical condition medical staff is describing.  Within a few hours doctors tell you that your mom or dad is likely to die, and to consider hospice. Within a few days or weeks they are dead.  You suspect the nursing home neglected your mom/dad.  What do you do?
STEP 1. Report Your Suspicions to the Department of Public Health
(a).  Click this link to go to the Department of Public Health Website.
(b). Once there, type in the name of the nursing home that you want investigated for suspected elderly neglect of your mom/dad. It will pre-populate a dropdown list of nursing homes as you type, click on the correct facility when it pops up:

(c)  Fill out all sections of the form that pops up (see below). Add as much detail about the elder abuse or neglect you witnessed at the nursing home, be as detailed as possible.  (You can read our guide here on providing details.)  You can attach photos or documents at the end by clicking "choose file" (Noted with the red arrow.)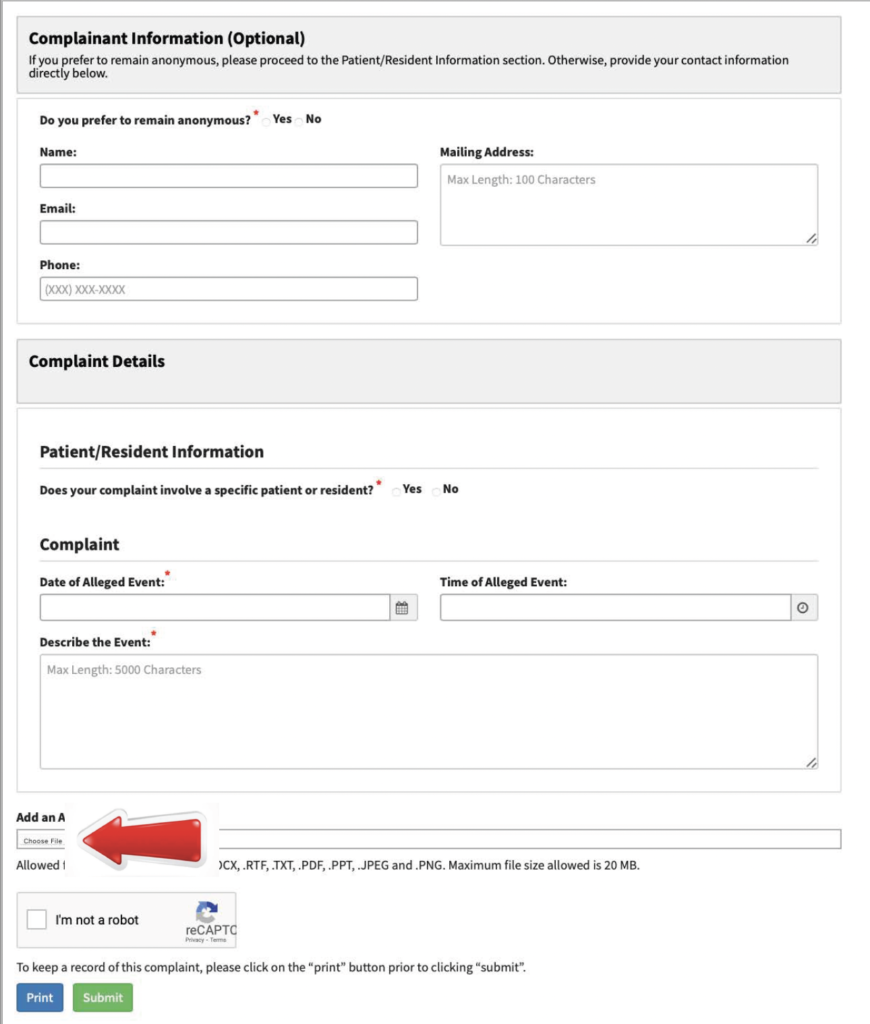 (d).  Click "Print" and save your printed complaint in order to have proof and/or to allow you to follow up with DPH.
(e).  Click "Submit" to send the form to DPH.
STEP 2.  Investigate What Happened to Your Mom/Dad at the Nursing Home.
(a).  Go back and talk to nurses and caregivers at the nursing home. Ask them what happened. Take notes, write down names, dates, times, and summaries of your conversations.
(b).  Get names and information from other potential witnesses. Did your mom/dad have a roommate or did family of that roommate visit?  See if they are willing to talk to you. Take notes, write down names, dates, times, and summaries of your conversations.
(c).  Ask medical providers who are providing care to your parent if what they are observing is consistent with neglect or abuse. Demand they put it in their reports and report the same to DPH.  (They are mandated reporters.)
STEP 3.  Request a Copy of Your Loved One's Medical Record From the Nursing Home.
(a).  Contact the "Administrator" at the nursing home that neglected or abused your parent and demand a full and complete copy of their medical record.
(b).  Put the request in writing, using this template as a guide.  Note the nursing home is required, by federal law, to provide the record to you within two days. If they do not give you the records in two days, contact us and file another complaint with DPH for their failure to provide you the records (following "STEP 1., above.)
(c).  Request a copy of the records from the hospital where your loved one was transported following the neglect/abuse at the nursing home.
STEP 4.  Report the Nursing Home To Law Enforcement.
(a).  Some circumstances would indicate that a report to law enforcement is appropriate.  Determine the appropriate agency, if the nursing home is in the city of Sacramento, contact the Sacramento Police Department. If in the County, contact the Sheriff's Department.  If in any other incorporated city, contact that city's police department. Insist they take a report.