Protecting and advocating for whistleblowers courageous enough to come forward.
There will always be people who put the well-being of others ahead of their own personal interests.  This perhaps is the best description of a whistleblower – someone who knows that coming forward will potentially have a negative impact on her job, salary, reputation, but who speaks up anyway because it is the right thing to do.  To a whistleblower, the protection of others is more important than his/her own self interests.
Did you report your employer to a government agency for violation state or federal regulations?  Are you fearful that someone found out that you were the source of the report?  Has your employer taken action against you because you tried to do the right thing? – If so, you are a whistleblower.
If you are a whistleblowers you deserve protection and the law affords you protection.  If you have reported unlawful activities by your employer and it resulted in any adverse employment action (a demotion, loss of salary, privileges, benefits, etc.) please contact us as soon as possible.
The Law Firm of Sean R. Laird has experience in qui tam actions on behalf of whistleblowers / employees.
The False Claims Act and similar state statues allow for employees to report the fraudulent conduct of their employers and file a lawsuit on behalf of the federal and state governments to recover monies gained through deceptive practices.  A whistleblower becomes a "Relator" for the United States Attorney's Office and Department of Justice (or other law enforcement agency) and plays a key role in helping to uncover and unravel fraud that unjustly enriches companies attempting to bilk the system.   The US Attorney's Office can join the qui tam claim filed by the employee and can use its resources to investigate and prosecute the cause of action.  If successful a relator can be entitled to up to 30% of the total amount awarded to the government.
False Claims Act causes of action can also be combined with employment claims, such as wrongful discharge and retaliation causes of action.  As with all lawsuits, time is of the essence in a qui tam action.  The relator who is first to file will typically be the only individual entitled to recover.  If a pre-existing case based on the same fraudulent conduct has already been filed, a subsequent case is likely barred.  However, if reporting different or distinct fraud, there may be grounds for a second or additional qui tam action. Contact us as soon as possible to report employer fraud.
This memo here, issued by the Department of Justice, discusses the False Claims Act, commonly referred to as whistleblower or qui tam actions.
Kickback allegations against North American Health Care's CEO alleged.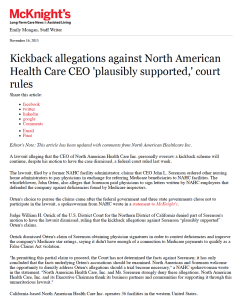 Sean Laird is one of the attorneys representing John Orten in his quest to seek justice on behalf of himself and the Medicare program, which is alleged to have paid claims it otherwise would not have had it known of North American's kickback scheme as alleged in Orten's complaint.