Reporting Neglect Nursing Home: Ombudsmen Can Help You Report Elder Abuse
Helping report elder abuse and nursing home neglect is just one of the tasks of a long-term care ombudsman office. Volunteers with an elder abuse ombudsman program pay friendly visits to nursing home residents, advocate for them and assist with resolving complaints, including nursing home abuse.
People don't report elder abuse for reasons such as fear of retaliation, but reporting is vital in order to stop senior abuse. Turning to an elder abuse ombudsman program for help makes the process easier. When you observe nursing home abuse, you can contact a law enforcement agency (Adult Protective Services and Sacramento Police Department or Sacrament County Sheriff) or you can go through a long-term care ombudsman found at the California Department of Aging the National Long-Term Care Ombudsman Resource Center. By reporting elderly abuse to an ombudsman's office, you acquire an advocate for the process ahead.
To report elder abuse and protect nursing home residents, every state has a long-term care ombudsman office. Most elder abuse ombudsman programs use volunteers in nursing facilities. In many states, reporting grievances is part of a volunteer's duties; in some states, volunteers primarily provide seniors companionship. When it comes to elder abuse and neglect – and quality of life in nursing homes – these volunteers are indispensable. The nursing home must provide you the contact information of the long term care Ombudsman.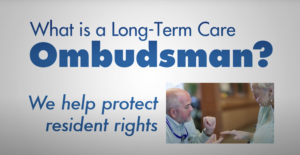 Ombudsmen who report elder abuse perform a vital function: reducing senior physical neglect and abuse. Volunteers in an elder abuse ombudsman program also help prevent abuse of the elderly. Nursing home abuse is less likely to occur if staff members know a community member is actively concerned. Along with reporting and deterring elderly abuse, ombudsman programs also provide residents peace of mind because their concerns are heard.
In addition to reporting elder abuse, an ombudsman educates others about the rights of nursing home residents. In this way, an elder abuse ombudsman program can help increase the number of people who report abuse and neglect. Ombudsmen work in residential care and other long-term facilities, as well as nursing homes. Reporting elderly abuse – plus serving residents and educating the public – is the duty of the ombudsman's office.
If you suspect your loved one has been neglected or abused at a Sacramento nursing home or assisted living facility, contact us immediately.